When it comes to yoga leggings, many people opt for the safe shades of black, grey, and chocolate brown. Only a handful of adventurous yogis will branch out to wear the more exciting and bolder colors that apparel manufacturers come up with. Many times, the hesitation to wear bolder shades is the result of low self-esteem or a fear of standing out in the middle of a crowd. Is there anything you could do to get over this common fear?
Knowing that you can stylishly pull off a pair of bold-colored yoga leggings can give you the confidence you need to add a few pairs to your collection. You can feel completely self-assured that you look great in one of these amazing combinations. Take a look at some of these style tips to help you come up with your new favorite outfit.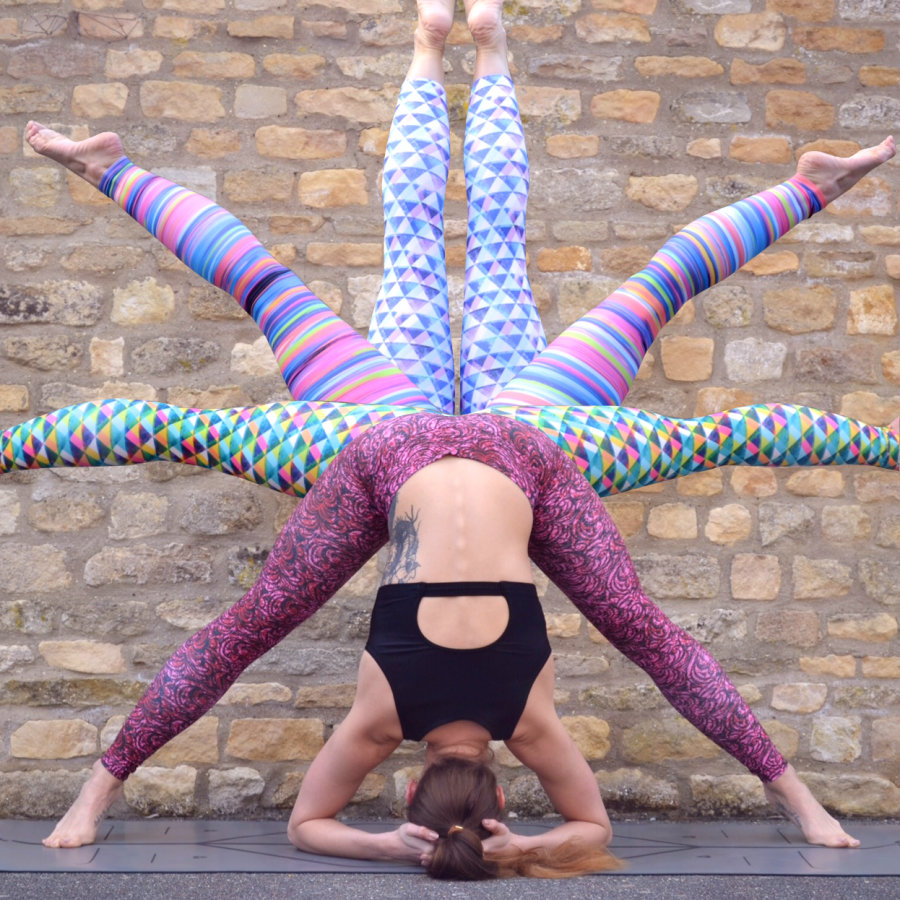 Find bold colors that don't stand out too much.
When you think of bold colors, what specific shades come to mind? For many yogis, they may have visions of fluorescent pinks and highlighter yellows. You may need to consider adapting your initial interpretation of what could be considered a "bold" color choice. Fluorescent hues aren't the right fit for every personality or skin tone.
Instead, you should consider bold colors that embody some of what the season has to offer. You may choose to wear navy blues, deep crimsons, or golden yellows as fall moves into winter, for instance. Finding colors that are bold when seen in large swaths of fabric that don't stand out in the middle of a crowd could be key to selecting the right shade for your personality.
Don't try to add too many colors at once.
One of the biggest mistakes that yogis make when it comes to wearing bold yoga leggings is to add too many colors at once. A bold color or pattern on the yoga leggings themselves is all that's needed to make an outfit stand out.
You could wear a darker shade in a flowing tunic top to tone down the overall boldness of your yoga leggings. Lighter colors will brighten up an outfit and help it to stand out even more. If you feel comfortable with a bright outfit that truly stands out, you may want to go with a lighter top. You should wear a much more neutral top in a cream color or light gray to help balance out the boldness with the rest of your outfit.
Be confident in your choice.
At times, it can feel overwhelming to wear something that's too far outside of your usual comfort zone. When it comes to yoga leggings, you should really try to wear them with the utmost confidence in your appearance. This can be the absolute key to pulling off the trend of bold yoga leggings successfully.
The old adage says that when you look good, you feel good. Accept that a bold-colored pair of yoga leggings likely does look good on you, and allow it to influence how you carry yourself throughout the day.